Consign Your Classic Car : Classic Car Consignments

Consign Your Classic Car With West Coast Classics, LLC
424-376-5151
Click Here - West Coast Classics Classic Car Consignment Agreement Form
Whether you are simply a classic car seller, collector, recent classic car estate sale trustee or a casual hobbyist, you are doubtlessly aware how difficult and time consuming it can be to sell your classic car at a fair price in today's collector car marketplace. Where do you start?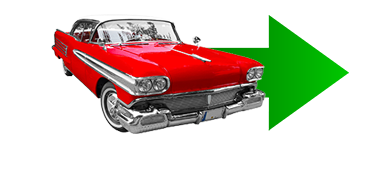 West Coast Classics classic car consignment program can take the pain and frustration out of the selling process, while assuring you a top dollar price for your classic car.

First, let's start with our selection process for car consignment. West Coast Classics will only consign reputable and turn-key ready vehicles. At any given time, we can have millions of dollars of our own cash in inventory and restoration projects and therefore are very picky about what we will take on consignment. If we do agree to take your vehicle on consignment though, the basic process is very simple:

First, we arrange the transport of your vehicle and only charge a $1 per mile fuel surcharge for the delivery of the vehicle to us. Second, our professional AAA rated mechanics give your vehicle a complete safety check and we will then provide you with a report of any items we feel need to be repaired in order to make the car ready for sale. We can handle the repairs at our discounted trade shop rate plus any parts that are deemed necessary. Third, we will professionally detail your vehicle, free of charge. Fourth, we conduct a professional photo shoot of your collector vehicle and then we unveil it to the world, with an accurate and detailed description of your car's condition.
Besides being instantly accessible to our wide network of international associates and followers, both private and professional, your car will be then be listed on our website and marketed internationally on numerous collector and classic car websites to ensure your vehicle reaches the highest potential audience possible. You should also note that our reputation in the market is a huge factor in our ability to market and sell your car. Most sophisticated buyer's and/or collector's generally would rather deal with a known entity, that has a reputation and will stand behind their representations, before they transfer large funds for such a purchase, rather than with an anonymous individual.
As a legitimate, licensed and bonded California classic car dealer, West Coast Classics, LLC will professionally handle the transaction from start to finish, assuring that all laws are complied with and that the paperwork and shipping and delivery arrangements of your classic car are handled properly. Although we require that the owner maintains current and full insurance on the vehicle whilst on consignment with us, you should note that our premises has 24 hours/365 days a year professional security monitoring and 24/7 recorded surveillance cameras.
When you're ready to consign your Classic Car, or indeed an entire collection of classic cars, the West Coast Classics classic car consignment program is a very attractive alternative to the discriminating seller who wants a fast, painless and worry-free transaction.
West Coast Classics Classic Car Consignment Fees:
Our classic car consignment program is entirely contingency fee based. There is no fee to you if we do not sell your car, aside from the transportation of the vehicle.

For very unique and exclusive cars for which a true value in not generally established or at least well known, our consignment program takes a new approach utilizing the modern tools available to us today, starting with our highly visited and internationally renown website using our distinct immediate feeds to numerous websites, publications and international clients worldwide which enable us to get your car in front of the right eyes immediately and generate unparalleled leads and feedback. We feed to a huge international network of classic car buyers, collectors and enthusiasts who prefer to purchase from a known and well established world renown classic car dealer with two southern California locations and a respected and stellar feedback and reputation. The advantages this achieves in the sale of your classic car cannot be stressed enough and certainly cannot be achieved by any individual or alternative entity without this rock solid reputation and proven ability to represent the product correctly and to then be able to deliver the car with the correct paperwork anytime, anywhere in the world. This process of selling cars both globally and across the U.S.A. is proven by the fact that on an average month, over 90% of our sales are either out of state or international in nature, with only the remaining 10% of our cars on average being sold here in California.

In return for this fresh and uniquely modern approach and service we only ask our clients to agree to a fair net price for your car. That is a net price that is more than you would expect to achieve in an outright and immediate sale of the car and a price you are therefore very happy to sell your classic car, truck or motorcycle for after having us market and represent your vehicle for a period of say 60-90 days and that would therefore satisfy your understanding of its fair value. In these cases, and under these unique circumstances, we prefer not to charge the typical 10-15% fee achievable only by generally asking ridiculously high prices to hopefully pay our commission but instead we will cut straight to the chase and give you what you want net of any fees, commissions or charges whatsoever. Upon the agreement between us of this net price to be paid to the owner, then our consignment program will begin with us having the car professionally picked up by a licensed auto carrier and brought to our Santa Monica or Torrance showroom where it will be evaluated for sale both mechanically and cosmetically. It will then be both professionally photographed and detailed. Next our unique and market proven sales department will begin the marketing process internationally with feeds from our website going to numerous entities and publications and individuals worldwide. Once a sale is achieved and the funds have been received we pay the owner his agreed net price with absolutely no charges of fees whatsoever, unless of course otherwise agreed.

We feel there is no better way to sell your classic car and for the individual or company who values their time and car as much as we will there is at last a program that offers these classic car owners both dignity from the rigors and demands of the crazy classic auction car circuit and the piece of mind that comes from knowing that their car is in the safe and capable hands of southern California's most respected and trusted classic car dealership who will help them achieve both their desired price for their classic car as well as the minimum of fuss and nonsense associated with any other method using our sophisticated but refreshingly simple modern approach to a consignment program.
Alternatively, if the seller wishes to utilize a standard consignment program approach, as is typical of the majority of classic car dealerships, then the standard industry fees are as follows: as the amount of work involved in selling a classic car is frequently comparable regardless of value, fees generally start at 15 percent of the gross sale price for any car which sells for $50K or less. For cars over $50K the fee drops to 12.5% and over $100K it drops to 10%. Above these stated amounts fees can be negotiable depending on the value of any particular car or package deal. As indicated, generally the higher the value of the car, the lower the consignment fee. It should also be taken into account that certain costs and charges associated with the sale of any individual vehicle are typically deducted from the sellers net amount under these circumstances and these costs should therefore be discussed prior to consigning the car.

In certain situations please note that we are also happy to arrange individual packages to suit both parties that can either pay an agreed upon set price or a split percentage.

For further information contact us directly or print & return to us by fax or scanned e-mail the following form:
Classic car consignments:
Trust West Coast Classics, LLC for your classic car consignment, vintage car consignment, muscle car consignment, historic car consignment, classic motorcycle consignment, classic truck consignment, etc and remember we are located in both sunny Santa Monica and Torrance, California, U.S.A., conveniently central to the stars in Beverly Hills, Hollywood and Malibu and the Orange County Classic Car communities of Newport Beach and Costa Mesa and of course San Diego and Santa Barbara counties!
Remember West Coast Classics will Sell, Buy and Consign all types of classic and rare and exotic luxury cars including:
Acura Alfa Romeo American Motors AMX AMG Aston Martin Audi Austin Healey BJ7 BJ8 Baracuda Bentley Azure Turbo R S1 S2 BMW M Roadster Buick Skylark Riviera WildCat Cadillac Allante Eldorado Series 62 DeViille DTS Fleetwood Camaro SS Z28 RS Chevrolet Nova Corvette ZR-1 Convertible Impala Bel Air Monte Carlo Chevelle SS396 SS454 El Camino Chrysler 300 Hemi Datsun 240Z 260z 280z Dodge Charger Challenger Dart Daytona Super Bee Ram Viper Eagle Ferrari 308 328 348 400 355 456 360 550 430 Fiat Ford Mustang Mach 1 Fastback Fairlane Galaxy Falcon Ranchero Torino Thunderbird T-Bird GMC Infinity G35 G37 Harley-Davidson Hummer H1 H2 Honda Jaguar V12 XK120 XK140 XJR-S XJS XKE EType Roadster Jeep Lamborghini Land Rover Defender Lexus Lincoln TownCar Continental Lotus Maserati Maybach Mazda Mercedes-Benz 280SE 3.5 190SL 300SL 280SL 380SL 450SL 560SL Mercury Cougar XR7 Cyclone Merkur Mini Mitsubishi Morgan Montego MG B GT TD TF A Motorcycle Chopper Nissan 300ZX 350zx Oldsmobile 442 Peugeot Plymouth Duster Prowler Roadrunner Superbird Pontiac GTO Firebird Fiero Catalina Tri-Power Porsche 911 SC 912 928 930 993 Targa Cabriolet Rolls Royce Silver Wraith Silver Dawn Silver Cloud Silver Shadow Silver Spirit Silver Spur Silver Seraph Corniche Camargue Phantom Saab Saturn Scion Smart Subaru Suzuki Tiffany Toyota Landcruiser MR2 Trabant Triumph TR3 TR4 TR6 TR7 TR8 Spitfire Stag Shelby Cobra GT350 Volkswagen Karmann Ghia DoubleCab Kombi-Van Thing 21 Window Camper Bus VW Westfalia Beetle Volvo P1800 Zimm
Classic & Collectible Cars | California Classic Car Dealer | Classic & Muscle Cars For Sale | Antique Auto Sales | Classic Car Auto Trader | Classic Car Classifieds | Collector Car Sales | Classic Restored Cars For Sale | Los Angeles Classic Car Dealer | Classic English Cars For Sale | Classic British Cars For Sale | Classic American Cars For Sale | California Cars | California Classic Cars | Collector Cars | Sell Car | Buy Car | Sell My Classic Car | Cash For Classic Cars